The Curious Incident of the Dog in the Night-time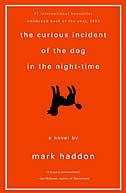 I've just finished reading The Curious Incident of the Dog in the Night-time by Mark Haddon. This book came highly recommended from a friend and it immediately grabbed my attention by declaring that it had been the recipient of the 2003 Whitebread Book of the Year award. I was shocked that there was an award given to the most whitebread book of the year because I didn't think that being associated with a bland suburban lifestyle would be a good thing. But upon closer inspection, I discovered that this book was, in fact, the recipient of the 2003 Whitbread Award, a fairly respected British award.
Curious Incident is a pretty straight forward book about an autistic teen, Chistopher Boone, who discovers his potential while solving a puzzling dogicide case (although dogicide doesn't really make sense since it implies that a dog was murdered, but murder means killing a person, not a dog). If you hated that last sentence, you probably won't like the book because it's written from the perspective of Christopher and he often goes off on tangents, providing little bits of trivial information...sort of like what I just did...only better...because Mark Haddon is an author who has won awards and I'm...well, I'm not.
I loved this book because I found the narrative to be creative and at times surprisingly witty. I don't think I've liked another fictional autist character this much since Dustin Hoffman's Rainman, or maybe Mary's brother in There's Something About Mary (you know, the guy who would go berserk when someone touched his ear...hahaha...he whopped them good...hehehe). Anyways, what I'm trying to say is I think I may have a mild form of ADD and it was great reading a book that changed topics every 5 minutes because it prevented me from getting bored and blah blah blah blah...blah blah blah blah blah...lalalalalalala...boooooooooooooooooooooooring.
Anyways, I loved this book. Go read it.
Your Favorite Jerk