Not quite home alone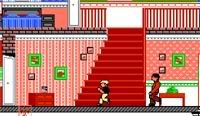 Rainy weekends tend to bring out the nostalgia-seeking side of me, especially when I'm faced with looming deadlines and stressful assignments. My all-time favorite nostalgic film is, without a doubt, the 1990 holiday classic Home Alone, starring future Michael Jackson confidant Macaulay Culkin. I came to Canada in April of that year, and Home Alone was my first real introduction to the North American celebration of Christmas.
It was nice to share an afternoon with Tiffy, watching this classic. But the real highlight of the day was our discovery of the old NES Home Alone game, which I must admit is very addictive. The object of the game is to run around the house for 20 minutes without getting caught by bitmap representations of Joe Pesci and Daniel Stern (Harry and Marv from the movie). It may sound like a simple concept, but the game is far from easy. Despite several viliant tag-team efforts by the two of us, the longest amount of time we were able to elude the crooks was under three minutes. We had better luck playing NES Jeopardy...okay, actually it was Junior Jeopardy because the real thing was too hard for us--pathetic, I know.
Your Favorite Jerk